15 Common WhatsApp Tricks 2017 - You Don't Know!!
Hello Friends, I'm back with another interesting post, today we are talking about 15 interesting whatsapp tricks you should know for better chatting experience.
So let's start...
1.Reply Any Specific Message:
While chatting with the person or in a group it is difficult to reply any old message or any specific message.
• Press and hold any msg which you want to reply.
• Now see the top of your mobile screen you'll see
↶
top on it to leave a reply.
2.Mention Any Person In Group:
In the groups, there can be 256 persons it is difficult to message or chat with the one person but know you can mention his name by typing @. It is same as we mention name in facebook.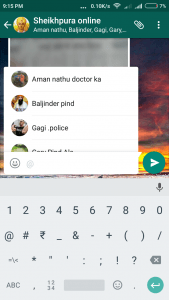 3.Put Blank Status Or Send The Blank Message:
I have tried a lot to put blank status but no trick work and in eventually I find it using prank message trick currently this trick is not working but you can put blank status with this method.
Copy the following text and put it on your status and delete symbol like ㊠ߘ㊠ ߘ㠊ߘ㊠
4.Manage Privacy Settings:
Compnay take care user privacy. Recently WhatsApp applies encryption. All basic privacy settings are managed from settings→Account→ privacy here is the full list of all privacy settings.
• Read recipient: It is blue tick show your friend to that you read his/her message. By default, it is tick mean everybody will know if you read his message. Off curse you can't find is person read your message or not. for this untick Read receipts.
• Hide last seen: With this trick you can chatting late night with your loving one and ypur parents will not know about your last seen. Again you can't find other person last seen.
• Profile photo visible: Specially girls who don't like someone see her profile photo, can hide photos to shown other there are 3 options 1. Only me 2. My contact( saved contacts in your phone and using WhatsApp) 3. Everyone(Anyone).
5.Send Message To Many Friends At Once
While forwarding any important message to all friends simple way is to make a group. Sometimes we can't make a group because you don't want share any private number then here is a way. First of all, go to new chat select number to which you want to send the message after that click on NEW BROADCAST.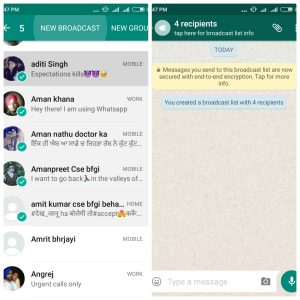 6.Change Number Without Losing Message Or Chat:
Whatsapp gives you feature to change your number without deleting messages. Mainly you don't need to join the group again. Go to settings→ account →Change number. Make sure that new number can receive sms. Although this process is really simple if you don't know
CHECK FULL TUTORIAL.
7.Save Mobile Data Usage:
If you are using Jio SIM then you don't need this trick ;) but if you are using any 3G phone or leave in any area where don't have enough signals of Jio, This trick is useful for you. Although WhatsApp consume small data but you can save your internet. By customizing settings you can stop the auto download of media files like photos, videos, audios. Go to WhatsApp settings→Data usage. Applying low data usage on calling can affect call quality so only stop media files.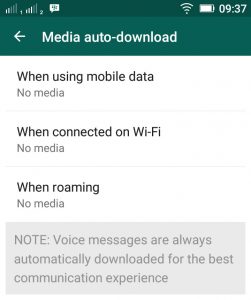 8.Hide A Chat (Not Delete):
There is an option for archived chat which moves chat to in archived section nobody scroll down to see chats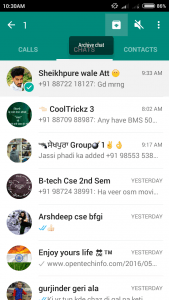 9.Create Shortcuts For Frequently Contacted Friends:
Some people open WhatsApp for the only chat with only 2-3 person like me;) if you are one of them here is the trick for your can place him/her on home.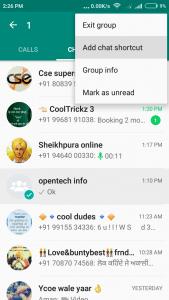 10.Fake Thumbnail Different From Real Photo:
Sure you will receive that type of images which are changed after downloading. Making your friend fool this is the best way. Download
Z-Photo Fake For Chats
(Size: 3.02 MB).
11.Send Big Emoji
Only this is the missing function in WhatsApp small emoji or not any sticker. I have no trick to send Stricker but If you send single emoji size will be larger.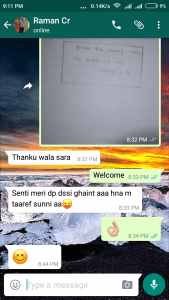 12.Change Whatsapp Chat Background:
Chat background enhances user experience. You can set any photo as wallpaper. You can also apply your favorite color as a background. For changing this open WhatsApp settings→chats→wallpaper. As you can see in given screenshot I have change background.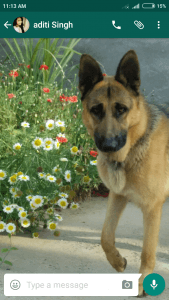 13.Mark important Message as Starred And Find It Later:
If some message is important you can mark it as starred and find it later easily. The screenshot shows how can you do it.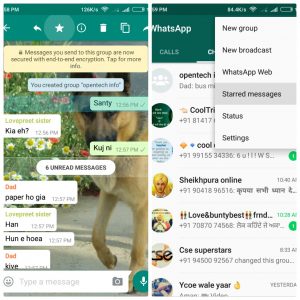 14.Use dual WhatsApp:
Dual WhatsApp on a single phone is an easy process. Install
Parallel Space
application from play store using this app and you can also use the dual account of any other app like Twitter, Instagram, Facebook, Youtube etc.
Here is process how to use parallel space
open it and click on clone button after that select WhatsApp choose Add to parallel space now it will make an icon of WhatsApp where you can use dual WhatsApp
15.Backup Your Chats:
you can save into file manager or google drive. For this go to settings→chats→chat backup. Here are two ways to backup chats 1 in file manager (it will not save videos) you can backup it anytime 2 in google drive which can include videos if you want. you can set time intervall for this.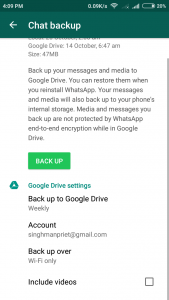 » Final Words:
Now nothing to say finally I hope you will enjoy this collection, thankyou for reading this post for. Stay tuned for more updates.
Enjoy Techaling!